Hey everybody, Dr. Ferris here. Today I thought I would showcase the Element 5D scanner. It's a pretty exciting piece of  technology and we were the first orthodontic office in the country to implement it. There's been a lot of interest in what the scanner's capabilities really are, so let's dive right into it.
Here we have a patient that we just scanned using the Element 5D scanner. As you can see, I can take this magnifying glass tool and I can go in and I can go through the scan tooth by tooth and do one of two things. First, I can look at each individual tooth's intraoral picture. So instead of having to get a separate intraoral photograph for that, I can just move the magnifying glass over the tooth and the picture shows up beautifully on the side of the screen. I can also enlarge the image, change the contrast, etc…This is information that you could send over to your insurance company if you wanted to if you saw a crack or decay or something like that.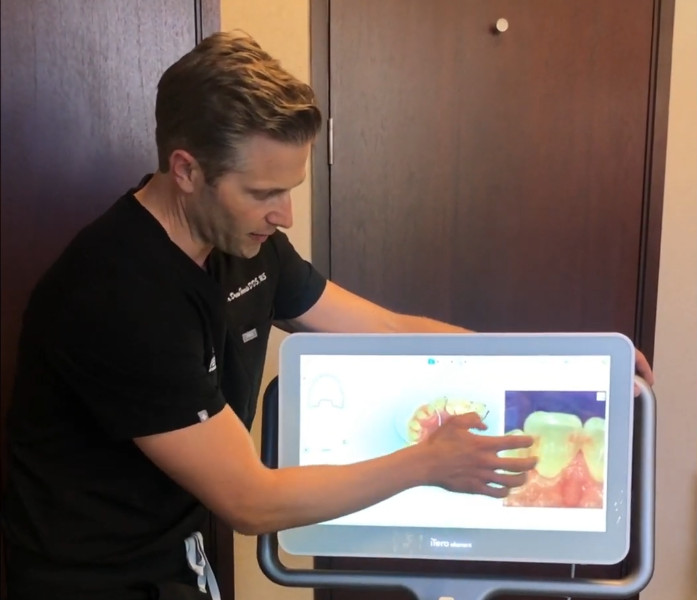 The second thing – and I'm just amazed by this – is the new NIRI (near-Infrared Imaging) technology which, in my opinion, is the biggest thing that sets this 5D apart from other scanners..This picture shows a patient with class three and class two proximal decay. You can see that it shows up as radiopaque – so whiter than the rest of the tooth. It's kind of the inverse of what we would see on a traditional X-ray.
You can kind of see here where we know that this patient has been diagnosed with some proximal decay in between eight and nine. And you can see where this white area is through there. She had some filing material below that but you can see where there's some leaky margins and it's kind of infiltrated all the way through the dentin.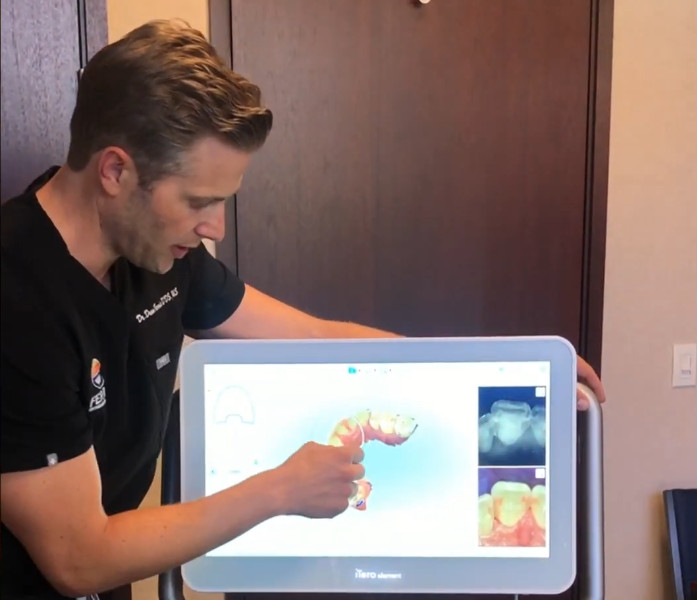 It is pretty amazing that we can diagnose this, and then from an orthodontic perspective, it's great because it allows me to keep working closely with the patient's dentist. I take a lot of these scans in my practice and I can send them over to their dentist to make sure they are getting the best care, taking care of their oral health, and then also making sure that the dentist is aware of it so that they can fix them up.
In addition to its diagnostic capabilities, the Element 5D scanner doesn't use radiation to generate the images, which our patients love. If you would like to learn more about the digital imaging technologies we use just visit our website or give us a call at 805-687-7417 (Santa Barbara) or 805-964-4786 (Goleta).